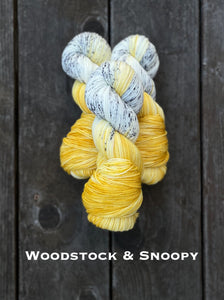 Seismic Yarn & Dyeworks
Woodstock & Snoopy
Regular price
$30.00
$0.00
Unit price
per
Welcome to Seismic Yarn & Dyeworks, an independent dye studio located just outside of San Francisco, CA
Woodstock & Snoopy - two of the best friends of all time. My grandmother used to read me the comics when I was a kid and my favorites were the ones where they were cuddled up and just enjoying each other's company. I also may have read Charlie Brown's Super Book of Questions and Answers over and over and over (and over and over...)

Want to hear something funny? My grandmother was an immigrant and not a native English speaker (neither of my grandmothers were, but today we are talking about my Chinese grandmother). She played a huge role in raising me so some words I learned to pronounce from her. For quite a while, I thought the little yellow guy was "Woodenstock." I got that straightened out eventually, but when talking to my grandma, I had to call him Woodenstock or she had no idea who or what I was talking about. I still call him Woodenstock in my head and hear my grandmother's voice when I do.

Grandma passed away over 20 years ago but that feisty little woman left a strong imprint on me and my life. I can't wait until my kids are a bit older so I can tell them some of the more outrageous stories about their great-grandmother (trust me, they are waaay too young to hear about some of her antics). Fortunately, they are just at the right age to hear about Wood(en)stock & Snoopy.
This listing is for a ready to ship item. If you would like this colorway on a different base or a custom sweater quantity, please see my Dye to Order listings or message me to select your favorite base and colorway combo and I'll happily dye it for you.
Bases:
Lace
Fluff 72.28 Super Kid Mohair.Silk 459 yards/50g

Fingering
Butter Sock 85.15 Extra Fine SW Merino.Nylon
Mini skein : 87 yards/20g
Butter Single 100 Extra Fine SW Merino 437 yards/100g
Butter Fingering 100 Extra Fine SW Merino 437 yards/100g
Super Sparkle (Silver/Gold) 84.16 SW Merino.Stellina 370 yards/100g
Luxe Fingering 80.10.10 SW Merino.Cashmere.Nylon 370 yards/100g
Ultra Fingering 100 Ultra Fine (17µ) SW Merino 370 yards/100g
Sparkle Luxe (Silver/Gold) 80.10.10 SW Merino.Cashmere.Stellina 370 yards/100g

Sport
Butter Sport 100 Extra Fine SW Merino 328 yards/100g

DK
Butter Sock DK 85.15 Extra Fine SW Merino.Nylon 246 yards/100g
Luxe DK 80.10.10 SW Merino.Cashmere.Nylon 247 yards/100g
Ultra DK 100 Ultra Fine (17 micron) SW Merino 247 yards/100g

Worsted/Aran
Butter Worsted 100 Extra Fine SW Merino 220 yards/100g
Luxe Aran 80.10.10 SW Merino.Cashmere.Nylon 180 yards/100g
Ultra Aran 100 Ultra Fine (17 micron) SW Merino 180 yards/100g
Butter Aran 100 Extra Fine SW Merino 180 yards/100g

Bulky
Butter Bulky 100 Extra Fine SW Merino 109 yards/100g
---
Share this Product
---