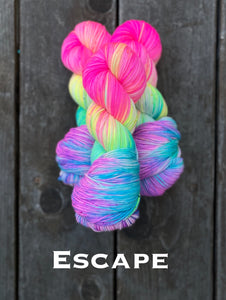 Seismic Yarn & Dyeworks
Escape
Regular price
$30.00
$0.00
Unit price
per
Welcome to Seismic Yarn & Dyeworks, an independent dye studio located just outside of San Francisco, CA
Escape is a rainbow of tropical neon that will transport you somewhere...else.  This colorway represents so much...the desire to escape and get away after over a year of mostly staying home due to the pandemic, but also that my hometown of San Francisco is a place that served as an escape and refuge for many who needed a home where they could find community and live a more authentic life. 
Created to coordinate with Pride 2021, Escape joins the Compassion Collection where 20% of gross sales will be donated to an organization that supports a marginalized community.  As a Pride inspired colorway, it only makes sense that the donations go to The Trevor Project, an organization that provides crisis intervention and suicide prevention to LGBTQIA+ youth.

Donations from the Compassion Collection will continue for the life of each colorway.
If you would like this colorway on a different base or a custom sweater quantity, please see my Dye to Order listings or message me to select your favorite base and colorway combo and I'll happily dye it for you.
Bases:
Lace
Fluff 72.28 Super Kid Mohair.Silk 459 yards/50g

Fingering
Butter Sock 85.15 Extra Fine SW Merino.Nylon
Mini skein : 87 yards/20g
Butter Single 100 Extra Fine SW Merino 437 yards/100g
Butter Fingering 100 Extra Fine SW Merino 437 yards/100g
Super Sparkle (Silver/Gold) 84.16 SW Merino.Stellina 370 yards/100g
Luxe Fingering 80.10.10 SW Merino.Cashmere.Nylon 370 yards/100g
Ultra Fingering 100 Ultra Fine (17µ) SW Merino 370 yards/100g
Sparkle Luxe (Silver/Gold) 80.10.10 SW Merino.Cashmere.Stellina 370 yards/100g

Sport
Butter Sport 100 Extra Fine SW Merino 328 yards/100g

DK
Butter Sock DK 85.15 Extra Fine SW Merino.Nylon 246 yards/100g
Luxe DK 80.10.10 SW Merino.Cashmere.Nylon 247 yards/100g
Ultra DK 100 Ultra Fine (17 micron) SW Merino 247 yards/100g

Worsted/Aran
Butter Worsted 100 Extra Fine SW Merino 220 yards/100g
Luxe Aran 80.10.10 SW Merino.Cashmere.Nylon 180 yards/100g
Ultra Aran 100 Ultra Fine (17 micron) SW Merino 180 yards/100g
Butter Aran 100 Extra Fine SW Merino 180 yards/100g

Bulky
Butter Bulky 100 Extra Fine SW Merino 109 yards/100g
---
Share this Product
---