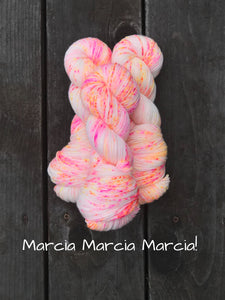 Seismic Yarn & Dyeworks
Marcia Marcia Marcia!
Regular price
$30.00
$0.00
Unit price
per
Welcome to Seismic Yarn & Dyeworks, an independent dye studio located just outside of San Francisco, CA.
Marcia Marcia Marcia! is intensely speckled with hot pinks and oranges and can also be found in the Pretty Pretty Princess Blended Speckle Mini Skein set.  By popular demand, it is now available as a standalone colorway! This colorway is extra cool under a black light!
It has a "spin-off" variation: Oh My Nose! Those of you familiar with the Brady Bunch may get a nice chuckle when you see it!

This listing is for a ready to ship item. If you would like this colorway on a different base or a custom sweater quantity, please see my Dye to Order listings or message me to select your favorite base and colorway combo and I'll happily dye it for you.
Bases:
Lace
Fluff 72.28 Super Kid Mohair.Silk 459 yards/50g

Fingering
Butter Sock 85.15 Extra Fine SW Merino.Nylon
Mini skein : 87 yards/20g
Butter Single 100 Extra Fine SW Merino 437 yards/100g
Butter Fingering 100 Extra Fine SW Merino 437 yards/100g
Super Sparkle (Silver/Gold) 84.16 SW Merino.Stellina 370 yards/100g
Luxe Fingering 80.10.10 SW Merino.Cashmere.Nylon 370 yards/100g
Ultra Fingering 100 Ultra Fine (17µ) SW Merino 370 yards/100g
Sparkle Luxe (Silver/Gold) 80.10.10 SW Merino.Cashmere.Stellina 370 yards/100g

Sport
Butter Sport 100 Extra Fine SW Merino 328 yards/100g

DK
Butter Sock DK 85.15 Extra Fine SW Merino.Nylon 246 yards/100g
Luxe DK 80.10.10 SW Merino.Cashmere.Nylon 247 yards/100g
Ultra DK 100 Ultra Fine (17 micron) SW Merino 247 yards/100g

Worsted/Aran
Butter Worsted 100 Extra Fine SW Merino 220 yards/100g
Luxe Aran 80.10.10 SW Merino.Cashmere.Nylon 180 yards/100g
Ultra Aran 100 Ultra Fine (17 micron) SW Merino 180 yards/100g
Butter Aran 100 Extra Fine SW Merino 180 yards/100g

Bulky
Butter Bulky 100 Extra Fine SW Merino 109 yards/100g
---
Share this Product
---