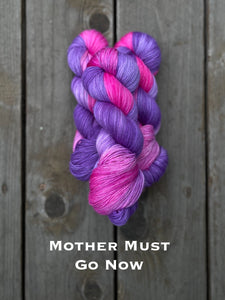 Seismic Yarn & Dyeworks
Mother Must Go Now
Regular price
$30.00
$0.00
Unit price
per
Welcome to Seismic Yarn & Dyeworks, an independent dye studio located just outside of San Francisco, CA
Mother Must Go Now is the latest addition to the Compassion Collection and was created as part of the Sweet Shadow Wrap Kit. 
The story:
Picture a 4 year old Eva on her first day of pre-kindergarten.  My new Catholic school uniform was neatly pressed (and itchy AF!) and my mom brings me to my classroom to introduce me to my teacher, Sister Romana.  I didn't want my mom to go (typical 4 year old) and after being the last remaining parent, the nun was over it.
She bent down, got in my face, and said firmly, "Mother must go now." Well, little Eva wasn't having it either.  "No she doesn't!," I reportedly yelled back in her face.
I imagine my face turning purple with rage and my mom's face bright pink with embarrassment.  But why this name for this colorway, and what does it have to do with ending AIDS?
Well, Sister Romana was a 60 something year old Catholic nun who died of AIDS in the 1980's.  She was infected via blood transfusion but it caused a huge uproar back then when there was a huge stigma around AIDS and it's prevalence in the gay community.
This name is the intersection of my childhood antics and how I was affected by the AIDS epidemic as a young child. I have faint, wispy memories of the field trip where Sister fell and broke her hip, leading to the surgery and transfusion that infected her. 

Colorways in the Compassion Collection help raise money for assorted organizations, and 20% of Mother Must Go Now will be donated to AIDS Lifecycle which benefits the San Francisco AIDS Foundation and the Los Angeles LGBT Center, and donations will be made through Gary Boston's AIDS Lifecycle fundraising portal. 

Donations from the Compassion Collection will continue for the life of each colorway.
This listing is for a ready to ship item. If you would like this colorway on a different base or a custom sweater quantity, please see my Dye to Order listings or message me to select your favorite base and colorway combo and I'll happily dye it for you.

Bases:
Lace
Fluff 72.28 Super Kid Mohair.Silk 459 yards/50g

Fingering
Butter Sock 85.15 Extra Fine SW Merino.Nylon
Mini skein : 87 yards/20g
Butter Single 100 Extra Fine SW Merino 437 yards/100g
Butter Fingering 100 Extra Fine SW Merino 437 yards/100g
Super Sparkle (Silver/Gold) 84.16 SW Merino.Stellina 370 yards/100g
Luxe Fingering 80.10.10 SW Merino.Cashmere.Nylon 370 yards/100g
Ultra Fingering 100 Ultra Fine (17µ) SW Merino 370 yards/100g
Sparkle Luxe (Silver/Gold) 80.10.10 SW Merino.Cashmere.Stellina 370 yards/100g

Sport
Butter Sport 100 Extra Fine SW Merino 328 yards/100g

DK
Butter Sock DK 85.15 Extra Fine SW Merino.Nylon 246 yards/100g
Luxe DK 80.10.10 SW Merino.Cashmere.Nylon 247 yards/100g
Ultra DK 100 Ultra Fine (17 micron) SW Merino 247 yards/100g

Worsted/Aran
Butter Worsted 100 Extra Fine SW Merino 220 yards/100g
Luxe Aran 80.10.10 SW Merino.Cashmere.Nylon 180 yards/100g
Ultra Aran 100 Ultra Fine (17 micron) SW Merino 180 yards/100g
Butter Aran 100 Extra Fine SW Merino 180 yards/100g

Bulky
Butter Bulky 100 Extra Fine SW Merino 109 yards/100g
---
Share this Product
---